Did you know that the liver is one of the most essential organs in the body? It works tirelessly to filter out toxins and waste from our system, but sometimes it can use a little extra support. That's where our liver cleanses blend comes in!
Our special blend is made from a carefully selected combination of organically homegrown plants and herbs, including dandelion and leaves, agrimony, mint, hibiscus, John's Wort, fennel seeds, and rosehip shells. These amazing ingredients work together to help promote healthy liver function and encourage the natural detoxification process.
By incorporating our liver cleanse blend into your routine, you'll not only support your liver but also boost your body's natural digestive function, metabolise fat, and cleanse your blood. It's like giving your liver a refreshing spa day but without the fancy price tag!
Ingredients
The Myla's Moss Liver Cleanse contains;
Dandelion and Leaves

Agrimony

Mint

Hibiscus 

John's Wort

Fennel Seeds

Rosehip Shells 
Benefits of Liver Cleanse Blend
The liver is a mandatory organ in the body that performs versatile important functions, including filtering toxins, producing bile, and regulating metabolism. The liver cleanses blend can help to promote liver health and overall well-being. The following is a list of benefits that you can witness with the liver cleanse blend.
Dandelions and leaves are rich in antioxidants and vitamins that help to support liver function and promote detoxification. They also improve digestion, relieve constipation, and boost the immune system.

Agrimony is a natural diuretic that can help to throw excess fluids and toxins from the body. It is also known to reduce inflammation and promote healthy digestion.

Mint is a soothing herb that can help finish digestive issues, such as bloating, gas, and indigestion. It is also known to reduce stress and improve mental clarity.

Hibiscus is rich in vitamin C as well as in antioxidants that boost immunity and reduce inflammation. It also has diuretic nature that helps to throw toxins and waste from the body.

John's Wort is known to have anti-inflammatory and antioxidant properties that can help to improve liver function and promote overall health. It can also reduce your stress and anxiety levels

Fennel seeds are rich in vitamins and minerals that help to support liver health and promote healthy digestion. They are also known to reduce inflammation and improve mental clarity.

Rosehip shells are a rich source of vitamin C and antioxidants that help to boost the immune system and promote healthy skin. They are also known to reduce inflammation and promote healthy digestion.
How To Use It?
Follow the below steps to use Myla's Moss Liver Blend;
Boil fresh water

Add 2 tablespoons of the blend to the water

Cover it and steep it for 3–5 minutes

Optional flavourings can also be added to the blend.

Then strain. 
What Sets This Product Apart From Others?
What sets Myla's Moss Liver Blend apart from other colon cleanse products is its use of natural herbs and ingredients. Unlike other liver cleanse products on the market, this blend does not rely on harsh chemicals or synthetic ingredients. 
These herbs have been used for centuries for their medicinal properties and are known to be safe and effective. If you're searching for the best liver cleanses near me, this is your best pick!
Disclaimer
Please note that the information provided about Myla's Moss Liver Cleanse Blend is for educational purposes only and should not be used as a substitute for medical advice. While Myla's Moss Liver Cleanse Blend has many potential benefits, it is important to consult your general practitioner if you have a severe medical condition or health concern.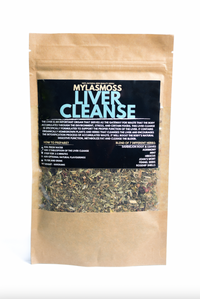 Liver Cleanse
£18.00