Upgrade your tea game with our exclusive blend of handpicked wildcrafted blend of Mullein leaf. Mullein leaf tea contains a delicate flavor profile that's perfect for cozying up on chilly days, and its soothing properties will leave you feeling relaxed and rejuvenated.
Leave your basic tea behind and indulge in a tea that's both luxurious and beneficial for your health!
Ingredients:
The key ingredient in Myla's Moss Mullein Leaf Tea is the mullein plant, scientifically known as Verbascum thapsus. The mullein leaf seeds, leaves, and flowers are used to make this incredible wildcrafted mullein leaf tea.
Benefits of Mullein Leaf:
Mullein leaf is rich in compounds that can help relieve respiratory ailments.  Certain compounds in mullein leaves and flowers are thought to act as a demulcent, which is a substance that relieves irritation in the body's mucus membranes, such as the nose, mouth, and throat. 
A mullein treatment may also work as an expectorant, which is what a common cough medicine is. When consumed as a tea, it can help ease symptoms of a chronic cough, asthma, and bronchitis. The benefits of mullein leaf also include antibacterial properties that can help fight off infections.
How To Use It?
Follow the following steps to drink this tea;
Boil fresh water

Add the desired amount of mullein leaf to the water

Cover and let steep for 5–10 minutes.

Be sure to strain the tea before consuming, as the fine hairs of the herb can be irritating to the mucous membrane if swallowed.
What to Expect?
Wildcrafted Mullein leaf can relieve respiratory issues such as coughs, colds, and bronchitis. Regular use may also help boost the immune system and fight off infections. However, the results may vary from person to person. Moreover, you can use the mullein leaf for kids.
What Sets This Product Apart From Others?
Myla's Moss Mullein Leaf is made from the highest quality Mullein Leaves and flowers to unleash its maximum benefits. This product is free from harmful additives and is 100% natural. We take pride in sourcing our ingredients ethically and sustainably, ensuring our customers receive only the best quality products.
Disclaimer:
Please note that the information provided is for educational purposes only and is not intended to replace your doctor's advice. Myla's Moss does not dispense medical advice or prescribe or diagnose illness. The views and nutritional advice expressed by Myla's Moss are not intended to be a substitute for conventional medical service. Please see your general practitioner if you have a severe medical condition or health concern.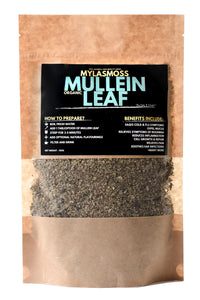 Mullein leaf
£15.00