Removing the curtain from the best superfood to tackle all thyroid problems–Myla's Moss Thyroid Blend. It is a specific blend of seven ingredients designed to support and regulate the thyroid gland. 
With its unique blend of ingredients and unparalleled effectiveness, this amazing blend is sure to become a staple in your daily wellness routine. Try our Thyroid Blend tea today for herbal thyroid support and experience the natural and effective relief you deserve!
Ingredients
If you're thinking of what herb helps the making of thyroid blend, here's a list of all the herbs that help the thyroid including;
Echinacea

Liquorice

English Plantain

Camomile

Marshmallow

Marigold Flower

Bladderwrack
Benefits of Thyroid Blend
The Thyroid Blend is designed to support and regulate the thyroid gland. Doing so may help alleviate symptoms of Hashimoto's Thyroiditis, hyperthyroidism, Graves disease, an enlarged thyroid, thyroid nodules, or thyroid cysts and tumours. 
Drinking this tea daily will benefit from improved thyroid function, leading to increased energy levels, improved mood, and better overall health.
How To Use It?
To make a cup of Thyroid Blend tea, follow the below-mentioned steps;
Boil fresh water

Add two tablespoons of the blend

Cover the tea and let it steep for five minutes

Then strain and enjoy!

You may also choose to add optional flavourings such as honey, lemon, or cinnamon to enhance the taste.
What to Expect?
Regular use of the Thyroid Blend may help to alleviate symptoms of thyroid conditions and improve overall thyroid function. Some users have reported increased energy levels, improved mood, and reduced symptoms such as fatigue and brain fog. It is important to note that this blend should be used in conjunction with conventional medical treatment and is not intended to replace the advice of your doctor.
What Sets Thyroid Blend Apart From Others?
The Thyroid Blend is an explicit combination of seven different herbs. Each one of them is chosen for its specific properties related to thyroid health. This blend is free from any harmful additives or preservatives and is made with only the highest quality herbs.  
Disclaimer
The information and statements made about the Thyroid Blend are for educational purposes only and are not intended to replace the advice of your doctor. Myla's Moss does not dispense medical advice, prescribe, or diagnose illness. The views and nutritional advice expressed by Myla's Moss are not intended to be a substitute for conventional medical service. If you have a severe medical condition or health concern, please see your general practitioner. Results may vary.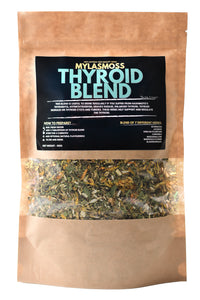 Thyroid blend
£18.00