Iron is a powerhouse mineral for your body. It helps convey oxygen to the brain and maintains healthy iron levels to prevent anaemia. And if you're feeling tired or run down, it might be a sign that you lack this vital nutrient.
But don't worry; we've got you covered with our fantastic alkaline Iron Fluorine blend! This powerful combination of dandelion root, yellow dock, and burdock root is packed with iron fluorine, which is highly effective in supporting healthy iron levels and preventing anaemia.
Not only that, but iron is like the spark plug of the human body, essential for helping to dissolve inflammation and support overall health and well-being. And our blend is made from only the highest quality ingredients to support the building blocks of life.
So if you want to level up your iron levels, prevent anaemia, and support your overall health, try our Alkaline Iron Fluorine blend today! You'll feel energised and ready to take on whatever life throws your way.
Ingredients
The Myla's Moss Alkaline Iron Fluorine blend contains;
Sarsaparilla Root

Yellow Dock

Dandelion Root

Burdock Root

Rosehip Shells

Elderberry Fruits

Ginger

Red Clover 
Benefits of Alkaline Iron Fluorine Blend:
The Alkaline Iron Fluorine Blend is made to boost the general well-being of people. Sarsaparilla Root, Yellow Dock, Dandelion Root, and Burdock Root are all rich in iron and fluorine, which are critical in the body's oxygen transport system. 
Moreover, Rosehip Shells and Elderberry Fruits are packed with antioxidants, which can help protect cells from damage caused by free radicals. Furthermore, Ginger and Red Clover are best for their anti-inflammatory properties as they can help reduce inflammation throughout the body.
This blend supports healthy digestion, as the ingredients have been used in the past to improve digestion and relieve gastrointestinal discomfort. It also helps boost the immune system, as the herbs contain vitamins and minerals essential for overall health.  
How To Use It?
Follow the below steps to use Myla's Moss Alkaline Iron Fluorine Blend;
Boil fresh water

Add 2 tablespoons of the blend to the water

Cover it and steep it for 3-5 minutes

Optional flavourings can also be added to the blend.

Then strain. 
What Sets This Product Apart From Others?
What sets Myla's Moss Alkaline Iron Fluorine blend apart from other colon cleanse products is its use of natural herbs and ingredients. Unlike other Iron blends products on the market, this blend does not rely on harsh chemicals or synthetic ingredients. 
These herbs have been used for centuries for their medicinal properties and are known to be safe and effective. If you're searching for the best Iron blends near me, this is your best pick!
Disclaimer
Please note that the information about Myla's Moss Alkaline Iron Fluorine blend is for educational purposes only and should not be used as a substitute for medical advice. While Myla's Moss Alkaline Iron Fluorine blend has many potential benefits, it is important to consult your general practitioner if you have a severe medical condition or health concern.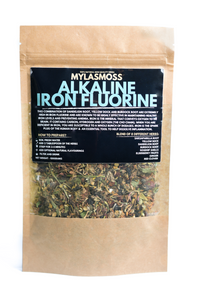 Alkaline Iron Fluorine
£30.00